J-Frame 5 Shot Revolver Speed Clip (2 Pack)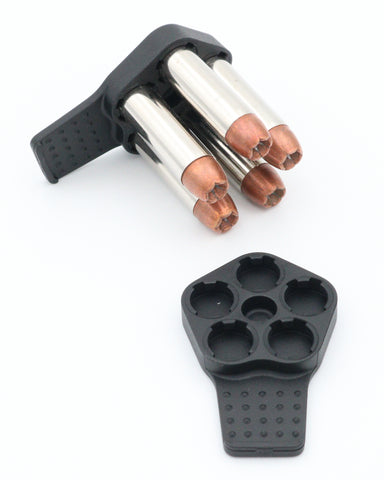 J Frame Speed Clip (2 Pack)
Description:
Zeta 6
The J-CLIP™ is designed specifically to fit 5-shot J-frame size revolvers.
Pentagon shape for real fit with most 5-shot J-frame revolvers including S&W, Taurus, Rossi, and Charter Arms (older models).
The J-CLIP™ works well with concealed carry style grips – will not work with larger rubber or wooden grips.
Made from tough BPA, BPS, BPF free polyurethane material for use in both hot and cold environments.
The J-CLIP™ is difficult to align using full wadcutter and Federal HST +P Micro ammunition. Try SYM-STRIP™ or J-STRIP™ for loading these bullet types.
Will not fit Ruger LCR revolvers.
Will not fit Taurus 85 Poly.

J-CLIP™ is not recommended for revolvers fitted with large rubber grips, wooden grips, or revolvers fitted with CRIMSON TRACE  laser grips.
The Zeta6™ J-CLIP™ Speed Loader will fit the following revolvers if fitted with rubber concealed carry style grips:

S&W® 36, 37, 38, 40, 42, 49, 60, 337, 342, 360, 437, 442, 637, 638, 640, 642, 649, M&P Bodyguard 38 (tight fit on 340PD)
Taurus™ 85, 605, 605 Poly, 650, 651, 850, 851 (will not fit Taurus 85 Poly or Taurus Model 856)
Rossi® 68, 88, 351, 352
Ruger® SP101 (will not fit the Ruger LCR)
Great speed loader for EDC
Retains cartridges tightly during storage. Peels off from the casings, leaving all five rounds in the cylinder without one coming out or dropping from the chamber. Quality material and packs tightly when not in use. Overall great product!
These load much more quickly than speed strips!
New item.
Seem like a good solution for a gun that the grip keeps getting in the way.
Google Reviews
Categories
Brand
Frame
Caliber
Shot
Thickness
Ammo Brand
Parts