Zeta 6 J Strip Speed Loader Strips (2 Pack)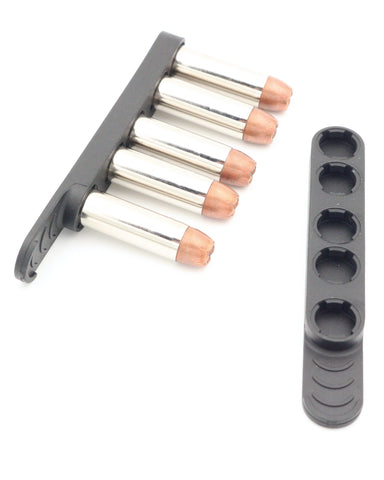 Description:
Zeta 6
The J-STRIP™ is designed specifically to fit 5-shot J-frame size revolvers.
Correct 2-2-1 cartridge spacing of this speed loader strip ensures real fit with most 5-shot J-frame sizes including: S&W, Taurus, Rossi and Charter Arms (older models).
The J-STRIP™ works well with any grip size to load two cartridges at a time.
Great for concealed carry. The J-STRIP™ fits flat in pockets of shirts, pants, vests and jackets.
The J-STRIP™ works well with all bullet types including wadcutter and Federal HST +P Micro ammunition.
Made from tough BPA, BPS, BPF free polyurethane material for use in both hot and cold environments.
The Zeta6™ J-STRIP™ Speed Loader will fit the following revolvers fitted with any style grip:
S&W® 36, 37, 38, 40, 42, 49, 60, 337, 340, 342, 360, 437, 442, 637, 638, 640, 642, 649, M&P Bodyguard 38
Taurus™ 85, 605, 605 Poly, 650, 651, 850, 851 (will not fit Taurus 85 Poly or Taurus Model 856)
Rossi® 68, 88, 351, 352
Ruger® SP101 (will not fit well in the Ruger LCR)
Great product
Speed strips are well made and work great!
Google Reviews
Categories
Brand
Frame
Caliber
Shot
Thickness
Ammo Brand
Parts