S&W .45 ACP Moon Clip - 6 Shot (N-Frame) B/S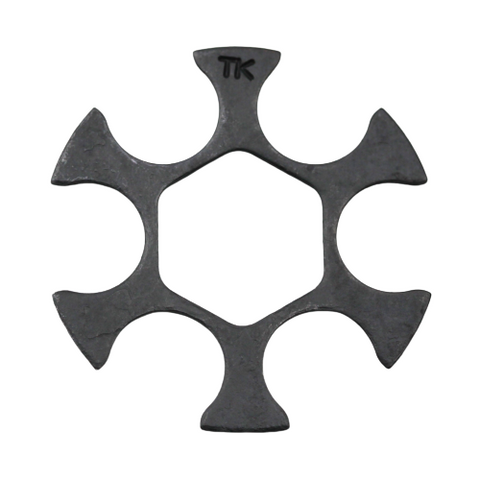 Smith & Wesson 625 & Governor .45ACP OEM Moon Clips B/S
Description:
TK Custom is your one-stop shop for Smith & Wesson 625 .45acp Moon Clips that fit perfectly every time. We understand that when it comes to Moon Clips, you need something that will last. Our S&W 625 .45acp Moon Clips do just that. Our clips will fit all .45acp Smith & Wesson 6 shot revolvers that come from the factory machined for moon clips. These moon clips are machined from carbon steel to a tighter tolerance than all other Moon Clips on the market. We are the leading retailer of S&W Moon Clips and Accessories, and once you try our products, you will know why. We carry a wide selection of moon clips and accessories for all makes and models of revolvers. Our moon clips are separated from other companies because we focus on the best fitment possible for fast reloads. Whether you're looking for a standard set of Moon Clips or something more specialized, we have you covered! We guarantee our fitment, quality, and durability are the best in the industry, or your money back is guaranteed!
Our high-quality Smith & Wesson 625 .45acp Moon Clips are precision machined from premium grade carbon steel to ensure reliable performance. These clips are .040 thick for superb headspace and incredible fitment.
Moon Clips are available in packs of 5, 10, 25, 50, and 100.
Designed to fit most brands of ammunition, they are easy to use and make loading and unloading your revolver much faster and easier.
We Offer Super-Fast Delivery on all Moon Clips and Revolver parts! With our lightning-fast shipping, you'll have your order in no time!
All our parts are made in the USA using the latest manufacturing technologies and techniques. We believe in supporting American businesses and workers and are committed to providing our customers with products that meet their highest expectations.
High quality
TK moon clips are hands down the best on the market, more expensive than others but well worth it.
Speed bees are better and cheaper than these
$5 per clip is robbery, especially when they work less well than clips that cost under $2 from speed bees. The moment I opened this package I took my stack of TK custom clips and held them to some light. I was disappointed to see gaps between every clip. This is not a problem with speed bees. The gap means it's warped, and when it's warped it sucks. This product sucks. I don't care for a refund. Go price your product accordingly instead. Considering they are less functional than a clip that costs $1.50 I think 75 cents is a fair price for these. You can technically put them in your gun and shoot, but you won't be hitting any "lightning fast reloads" with these. I feel I know a thing or two about lighting fast considering I hit sub 2s all the time, and my dry record is 1.16. I can't break 1.30s with theses and the reloads themselves are so inconsistent. Give me a speed bee tho, and I'll hit a 1.20 if you give me 10 minutes.
It sucks that these suck because now I'm not sure I want to spend $10 per "premium clip" if I can't trust the $5 ones.
Great product
Great company to get parts for your shooter
Google Reviews
Categories
Brand
Frame
Caliber
Shot
Thickness
Ammo Brand
Parts