Smith & Wesson Revolver Strain Screw for K/L/N Frames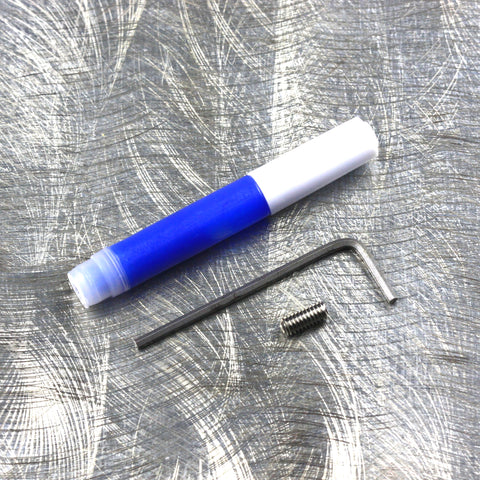 Smith & Wesson Revolver Strain Screw for K/L/N Frame Revolvers
Description:
Is your S&W revolver strain screw backing out, resulting in light primer strikes? Look no further! Our strain screw comes with blue Loctite, so ensure your revolver goes bang every time! If you're looking to eliminate performance diminishing and potentially dangerous light strikes from occurring in the quick and easy way, TK Custom has the ideal Smith & Wesson Revolver Strain Screw for K/L/N Frame Revolvers for you. Upgrade your Smith & Wesson K/L/N Frame revolver to be way more reliable than before with this Smith & Wesson Revolver Strain Screw for K/L/N Frame Revolvers!
A must-have for shooters that are constantly looking to improve the capability of their Smith & Wesson K/L/N Frame Revolver, this Strain Screw decreases the likelihood of dangerous and unexpected 'failure-to-fire' situations. Enhance your factory S&W revolver metal-injected molded internal action part's reduced performance capabilities with this kit; you'll be able to achieve a competition-ready trigger pull while still having 100% ignition! We've even included blue Loctite to ensure the Strain Screw doesn't come loose, and an allen key for easy fitting.
Installing this Strain Screw couldn't be easier with a drop-in installation using basic tools and just a rudimentary level of gunsmithing ability. However, fitting with precision is paramount to getting the performance enhancement you're looking for. Qualified gunsmith fitting is highly recommended, but not always required. It fits all Smith & Wesson K/L/N Frame Revolvers. To get started, remove the grip panels with a properly fitting screwdriver. Unscrew the current Strain Screw and tightly screw in your new Strain Screw. Reinstall the grip panels and instantly see the difference in consistency. Replacing and tightening the Strain Screw in your Smith & Wesson Revolver is the easiest repair that will both check and maintain your firearm's ability to fend off misfires!
Expertly constructed with high performance in mind, this Smith & Wesson Revolver Strain Screw for K/L/N Frame Revolvers is made from 17-4 stainless steel and has been engineered for superb fitment, the tension on the main spring for loading and ensuring proper ignition with every strike. Only the best will do for the USPSA Champion TK Custom Team Members.
Proudly made in the USA, our Smith & Wesson Revolver Strain Screw for K/L/N Frame Revolvers empowers you with the confidence and authority experienced by National Championship Level Pro Shooters. By improving hammer strike reliability, you can instantly reduce the performance-hampering factors you've been battling considerably. Whether you're shooting in the searing intensity of competition or simply practicing down at the range, our extended firing pin will help you hit your intended targets with more success and less effort.
Works on X frame
Strain screw works on X frames as well. Needed for extra tension using power custom hammer.
Nome strain screw problems
I have a S & W Classic Model 25 in 45 Colt, I installed a Wolf #2 spring kit and got light strikes, installed a longer strain screw, still had light strikes, installed a #1 spring sitll light strikes, installed TKC fitting pin, better still 10 % unfired cartridges. This spring allows setting the strain spring position that allows additional spring pressure. I was able to increase trigger pull from 6 lb range to 8.5 lb and now I have 100 % fired cartridges and still have a nice trigger feel.
Adjustable Strain Screw
Makes dialing in the strength of your hammer fall to match your primer of choice a simple procedure.
Related products
Google Reviews
Categories
Brand
Frame
Caliber
Shot
Thickness
Ammo Brand
Parts