Uberti Schofield .45 ACP Revolver Moon Clips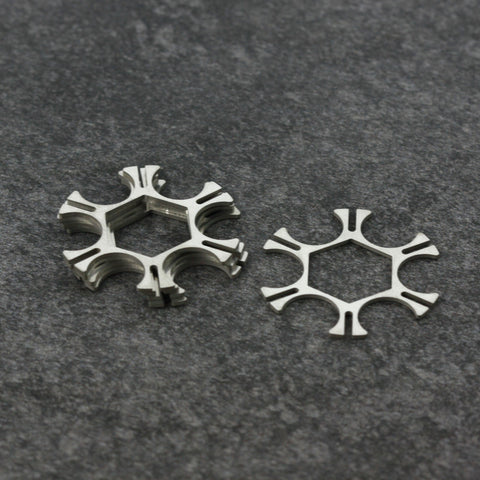 Uberti Schofield .45ACP Moon Clips
Description:
These Uberti moon clips are faster to use than a speed loader and allow quick and reliable ejection of the fired rounds, with a quick reload of all chambers at once.
Uberti Schofield: .45 ACP
Uberti .45 ACP revolver moon clips are .040 thick Stainless Steel.
Made in America!
Order your moon clips, moon clip tools and revolver accessories from TK Custom™ today.
THE CYLINDER MUST BE MACHINED!
Moon clips are a reloading device/method that makes it much easier to load a revolver cylinder with all your cartridges at one time. No fumbling, while loading your cylinder with rounds individually and possibly dropping some of them on the ground. No speed loader to pick-up off the ground after you load your revolver cylinder.
Related Products at the bottom of the page.
Schofield
No loading or unloading tools needed, could not be more pleased.
My moon clips.
The why they are designed absolutely is 100% better then the old ones I originally bought. This newer design allows me to load the rounds in snug without using a tool, take the empty ones out easily as well and also keeps you from bending them while trying to put in or extract the rounds. All around happy with them.
Moon Clips for Uberti Schofield
Excellent product. New(er) design prevents jamming to load last 1 or 2 rounds. Can load/unload w/o tools, and rounds held securely.
Google Reviews
Categories
Brand
Frame
Caliber
Shot
Thickness
Ammo Brand
Parts