Accuracy X 2011 S&W .40 Caliber Pistol for Sale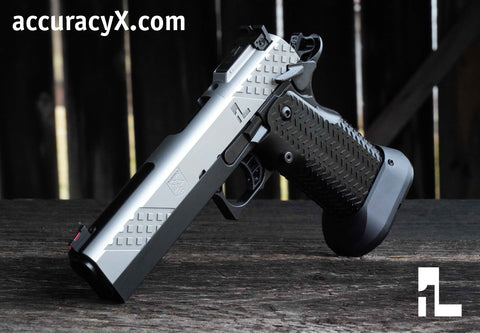 Accuracy X L1 Limited .40 S&W 5"
Description:
When Excellent Isn't Good Enough - Choose Accuracy X, Inc.
Accuracy X PRO Series™ L1 Limited 2011, S&W .40 Caliber Pistol for Sale
Lightened skeleton AXI slide for fast cycling 
AXI frame with extended dust cover for minimized recoil
AXI match barrel for extreme accuracy 
Multi-Sight™ and SLOT Sight™ system for versitility
Cheely Grip / Stainless Steel E2 Aggressive Grip (Option)
Double undercut trigger guard (Option)
Full length guide rod for recoil management
Match Trigger for precise shots
Large speed magwell for fast reloads
Ambi Safety for all-purpose use Includes tuned 140mm magazine
PLEASE BE SURE YOU CAN LEGALLY OWN THIS WEAPON BEFORE PURCHASING. It is not our responsibility to know your local gun laws. It is YOURS.
No Credit Card Fee's
Total: $3,995.00
L1 Specs:

S&W .40

 



Mag Capacity: 18
Barrel Length: 5″
Length: 7.6″
Height: 5.1″
Width: 1.3″
Sight Radius: 6.6″
Sights: Tactical
Accuracy: 1″ @ 25yds
Google Reviews
Categories
Brand
Frame
Caliber
Shot
Thickness
Ammo Brand
Parts