Zeta6 SYM-STRIP Revolver Speedloader Strip for J-Frame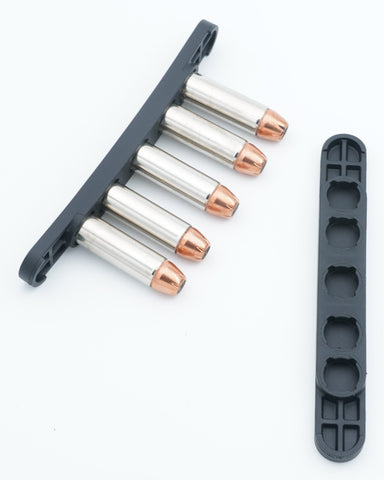 Description:
Zeta 6
The SYM-STRIP™ is a symmetrical revolver speedloader strip designed specifically to fit 5-shot J-frame size revolvers.
Completely symmetrical design allows reloading from either orientation.
Carry four rounds with center position empty or with all five rounds.
Tabs can be cut off for an even smaller size.
Correct 2-1-2 cartridge spacing of this speed strip ensures real fit with most 5-shot J-frame sizes including: S&W, Taurus, Rossi and Charter Arms.
The SYM-STRIP™ works well with any grip size to load two cartridges at a time.
Great for concealed carry. The SYM-STRIP™ fits flat in pockets of shirts, pants, vests and jackets.
The SYM-STRIP™ works well with all bullet types including wadcutter and Federal HST +P Micro ammunition.
Made from tough BPA, BPS, BPF free polyurethane material for use in both hot and cold environments.
The Zeta6™ SYM-STRIP™ Speed Loader will fit the following revolvers fitted with any style grip:
S&W® 36, 37, 38, 40, 42, 49, 60, 337, 340, 342, 360, 437, 442, 637, 638, 640, 642, 649, M&P Bodyguard 38
Taurus™ 85, 605, 605 Poly, 650, 651, 850, 851 (will not fit Taurus Model 856)
Rossi® 68, 88, 351, 352
Ruger® SP101 (will not fit well in the Ruger LCR)
Google Reviews
Categories
Brand
Frame
Caliber
Shot
Thickness
Ammo Brand
Parts