Bronze 9mm Chamber Cleaning Brush - 12 Pack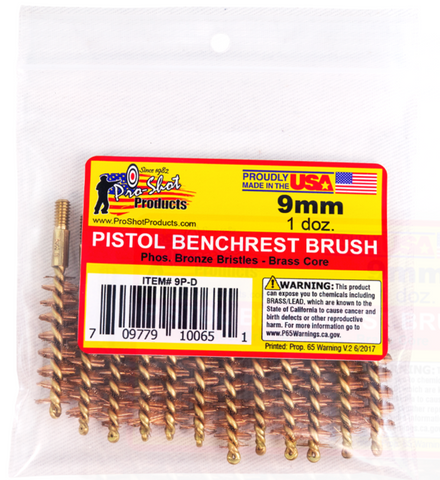 Bronze 9mm Chamber Brush QTY: 12
Description:
When you buy a Pro-Shot chamber bore brush, you're getting a brush that is designed for superior cleaning ability and extended brush life. The bristles on our 9mm chamber cleaning brushes are made of high-quality brass and bronze, which allows them to withstand frequent use. Our bronze cleaning brushes have also been used by competition shooters to set world records. So if you're looking for a bore brush that will get the job done right and last for years to come, Pro-Shot is the way to go.
QTY: 12 9mm Bronze Brushes

American Standard #8-32 thread.
MADE IN AMERICA 

Won't scratch even the finest surface
Pro shot bore brushes
I was delighted to find a convenient 12 pack of my favorite bore brushes on the TK Custom site. I have used these for years, strong bronze bristles with a soft core. Pro Shot cleaning products are top notch.
Google Reviews
Categories
Brand
Frame
Caliber
Shot
Thickness
Ammo Brand
Parts