LPA Adjustable Sights for S&W Revolvers - TXT0407F1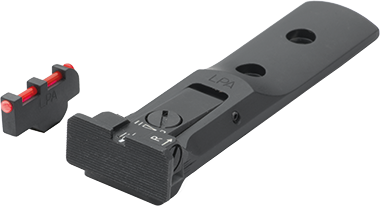 S&W - LPA Revolver Adjustable Sights (Black Body and Blade, Red Fiber Optic Front Sight, Pin)
Description:
TXT0407F1
LPA adjustable sight. Fits: S&W REVOLVER 929, 629, 686, 586, 627, 66, 67, 696, 17, 19, 657, 610, 625, 29, 27 and new caliber .50. All new models with drilled and tapped frame for S&W scope.
Best Revolver Products out there.
Amazing service, and the actions from the TK Custom Shop are second to none. Thanks Eli for amazing work!
Highest quality! Quick delivery and amazing results
Everything from tk customs has been top quality, and this is no different. If your looking for a better iron sight, and firing pin, no need to look any more just order now. The customer service is the highest iv ever encountered. And this sight makes the smith factory sights look like a child made them. So accurate, high quality, and looks amazing.
One stop shop
Only wish TKC also sold the #54 drill bit and punch you need to replace and drill the front post. Overall still the Best place to get everything you need for your firearms, especially your revolvers. Fast shipping and great service.
Google Reviews
Categories
Brand
Frame
Caliber
Shot
Thickness
Ammo Brand
Parts