Smith & Wesson Revolver Hammer Shims - 10 Pack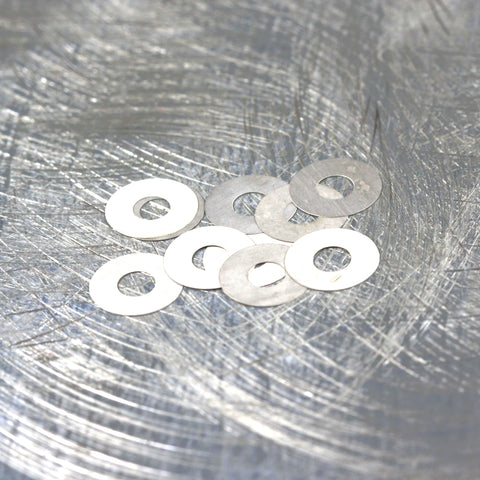 Smith & Wesson Revolver Hammer Shims
Description:
Is your revolver beginning to give side-to-side play in the hammer? Are you looking for ways to tighten up the action of your Smith & Wesson revolver by eradicating this loose play? If so, TK Custom has the ideal Smith & Wesson Revolver Hammer Shims in a 10 Pack for you. Improve your Smith & Wesson Revolver's alignment and ensure minimal movement to allow for maximum confidence in your firearm with this Smith & Wesson Revolver Hammer Shims!
A must-have for shooters that are constantly looking to restore their revolver's elite performance, these Hammer Shims allows you to tighten up the areas where minimal movement opens up over time, causing slack and a reduction of performance. Bring your factory S&W revolver metal injected molded internal action part's excessive 'shake' up to speed or prevent the hammer from rubbing on the frame or side plate with these hammer shims, you'll have your revolver back to perfect working order in no time! At a 0.002 thickness, these Hammer Shims can eliminate even the slightest of loose play and that annoying wobble that hinders your capabilities on the range, in competition use or in critical applications.
Installing these Hammer Shims couldn't be easier with a drop-in installation using basic tools and just a rudimentary level of gunsmithing ability, although, fitting with precision is paramount to getting the performance enhancement you're looking for. Qualified gunsmith fitting is highly recommended, but not always required. These .002 Hammer Shims fit all Smith & Wesson K/L/N/X Frame Revolvers. We include 10 0.002 Hammer Shims to make sure you can keep your revolver operating efficiently for years to come.
Expertly constructed with high performance in mind, these Hammer Shims have been engineered from tool steel and heat treated to 50 Rockwell hardness for premium durability and funtion to make a noticeable difference to each shot. Only the best will do for the USPSA Champion TK Custom Team Members.
Proudly made in the USA, our Smith & Wesson Revolver Revolver Hammer Shims grants you the confidence and authority experienced by National Championship Level Pro Shooters. By getting rid of the pesky loose play in the hammer, you can instantly reduce the performance-hampering factors you've been battling considerably. Whether you're shooting in the searing intensity of competition or simply practising down at the range, our hammer shims will help you upgrade the performance of your firearm and increase your chances of hitting your targets, with minimal effort.
Google Reviews
Categories
Brand
Frame
Caliber
Shot
Thickness
Ammo Brand
Parts