7 Shot Moon Clip - S&W 686+ .38/.357 Magnum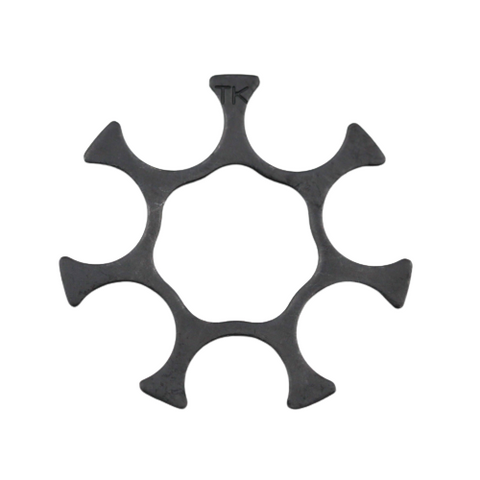 Smith & Wesson 686PLUS & 586PLUS .38/357 Magnum OEM Moon Clips B/S
Description:
TK Custom is your one-stop shop for Smith & Wesson 686PLUS & 586 PLUS .38/.357 Moon Clips that fit perfectly every time. We understand that when it comes to Moon Clips, you need something that will last. Our S&W 686PLUS .38/.357 Moon Clips do just that. Our clips will fit all Smith & Wesson .38/.357 7-shot revolvers that come from the factory machined for moon clips. These moon clips are machined from carbon steel to a tighter tolerance than all other Moon Clips on the market. We are the leading retailer of S&W Moon Clips and Accessories, and once you try our products, you will know why. We carry a wide selection of moon clips and accessories for all makes and models of revolvers. Our moon clips are separated from other companies because we focus on the best fitment possible for fast reloads. Whether you're looking for a standard set of Moon Clips or something more specialized, we have you covered! We guarantee our fitment, quality, and durability are the best in the industry, or your money back is guaranteed!
Our high-quality Smith & Wesson 686PLUS & 586PLUS .38/.357 Moon Clips are precision machined from premium grade carbon steel to ensure reliable performance. These clips are .025 thick for superb headspace and incredible fitment.
Moon Clips are available in packs of 5, 10, 25, 50, and 100.
Designed to fit most brands of ammunition, they are easy to use and make loading and unloading your revolver much faster and easier.
We Offer Super-Fast Delivery on all Moon Clips and Revolver parts! With our lightning-fast shipping, you'll have your order in no time!
All our parts are made in the USA using the latest manufacturing technologies and techniques. We believe in supporting American businesses and workers and are committed to providing our customers with products that meet their highest expectations.
.38/357 moon clips
Used these in a S&Wesson revolver. They worked perfectly. It was fun to load three 357 rounds and the four 38s. After squeezing off the 357s the 38s felt like a BB gun! I load up the clips before I go to the range and they fit nicely in Tupperware containers.
Great
Perfect fit. Just what I was looking for.
Good Moon Clips from TK Custom
The moon clips I got were for reloads of .38 Short Colt, which is in principle, a short .38 Spl./357 magnum gun that will clear the chambers of a S&W 686 cylinder. The moon clips are good in holding the rounds not too tight so you can load them by hand, and not to loose that you won't use a tool to "de-moon" the empty cases. I recommend this product because is good quality.
Google Reviews
Categories
Brand
Frame
Caliber
Shot
Thickness
Ammo Brand
Parts