Gunsmithing Leather Vise Jaw Pads for Secure Firearm Work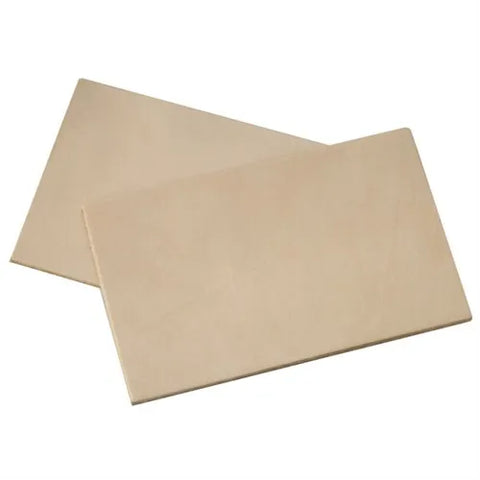 Gunsmithing Leather Vise Jaw Pads for Secure Firearm Work
Description:
Discover the ultimate solution for protecting your valuable gun parts and delicate items during your workshop projects – our top-quality cowhide leather pads. These heavy-duty leather pads are the timeless choice when it comes to safeguarding your workpieces from unwanted blemishes and damage. Whether you're a seasoned gunsmith or a DIY enthusiast, these leather pads are an indispensable addition to your toolkit.
Crafted from premium cowhide leather, these pads are engineered to provide exceptional durability and longevity. Their rugged construction ensures they can withstand the rigors of daily use in your workshop, making them a reliable choice for any task that demands precision and care.
Measuring at a generous 4 inches by 6 and a half inches (10.2cm x 16.5cm), these leather pads offer ample coverage for your vise jaws. Their substantial thickness of 9-10 ounces adds an extra layer of protection, ensuring that your firearm components or delicate items remain unscathed throughout your work.
One of the remarkable features of these leather pads is their versatility. You can opt to glue them directly onto your vise jaws for a secure and permanent attachment, providing a dedicated non-marring surface for your workpieces. Alternatively, you have the option to use them as separate pads, allowing you to customize their placement and configuration based on your specific project requirements.
Sold in convenient pairs, these leather pads are an excellent value proposition, ensuring you have a spare on hand when needed. With their outstanding quality and utility, they quickly become an essential part of your workshop arsenal.
In summary, our heavy-duty cowhide leather pads offer a reliable and robust solution for safeguarding your firearm components and delicate items during your workshop endeavors. Crafted from top-quality materials and boasting impressive dimensions, they provide ample protection and versatility for your vise jaws. Invest in these leather pads today, and elevate the precision and quality of your work while preserving the integrity of your valuable items. Order now and experience the difference these premium leather pads can make in your workshop.
Google Reviews
Categories
Brand
Frame
Caliber
Shot
Thickness
Ammo Brand
Parts