Smith & Wesson Revolver Pin & Drill for Pinned Front Sight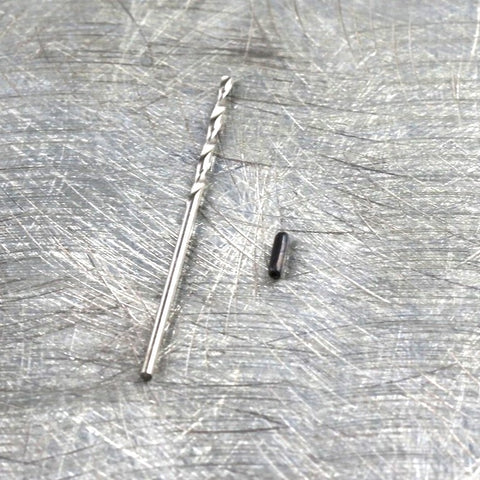 Smith & Wesson Revolver Pin & Drill for a Pinned Front Sight
Description:
When it's time to make minute adjustments to your front sight or replace it altogether, there's no room for error. TK Custom has the ideal Smith & Wesson Revolver Pin & Drill For A Pinned Front Sight for you. Use the right tools for the job and preserve your Smith & Wesson Revolver's immaculate form with this Pin & Drill For A Pinned Front Sight!
 A must-have for all shooters looking to make the necessary adjustments needed to elevate their performance, our Pin & Drill For A Pinned Front Sight includes a #53 drill bit and a .062 pin. The small sizing of our Pin and Drill is crucial to the process of adjusting or changing your sight and using regular, larger drill bits could cause irreversible disfigurement to your revolver. By using our Pin & Drill to alter your front sight, you can effectively counteract whichever way your shot drags by making only slight and precise adjustments. Not only can you sharpen your shot, but by replacing your front sight, you can also ensure the sight slot is kept in perfectly clean operating order.
 Replacing the extended firing pin on your revolver couldn't be easier with a drop-in installation, although fitting with precision is paramount to getting the performance enhancement you're looking for. Qualified gunsmith fitting is highly recommended, but not always required. This Pin & Drill is for all Smith & Wesson models. To get started, use a lightweight hammer to gently tap out the current pin, using hemostats to secure the other side. Once the pin is out you can gently drive the current sight out, cleaning the slot after its removal. Then use a plastic mallet to tap the new sight back in to ensure no disfigurement is made, checking the front edge is flush before proceeding. Use the #53 Drill Bit to drill the hole, making sure that your drill angle is completely flat and there is no bending of the bit. Continually check over the top of your revolver to ensure you're headed in the right angle, cleaning out metal shavings as you go along. Once you're through, knock the new pin in.
Expertly constructed with high performance in mind, the Pin is made from 17-4 stainless steel and heat-treated (to 50 Rockwell hardness) for ultimate durability and stability. It's also slightly wider in diameter than the hole it forced into, leading to resisted movement from side to side and negating a loose sight. Only the best will do for the USPSA Champion TK Custom Team Members.
Proudly made in the USA, our Smith & Wesson Revolver Pin & Drill For A Pinned Front Sight empowers you with the confidence and authority experienced by National Championship Level Pro Shooters. By using the exact right tools and parts to make adjustments to your firearm, you can instantly reduce the performance-hampering recoil factors you've been battling considerably. Whether you're shooting in the searing intensity of competition or simply practicing down at the range, our Pin & Drill will help you hit your intended targets with more success and less effort.
Drill Bit: #53
Pin Size: .062
S&w front sight
Easy to install. Even got the drill bit with the sight. Thx
Smith & Wesson Revolver Pin & Drill for a Pinned Front Sight
Google Reviews
Categories
Brand
Frame
Caliber
Shot
Thickness
Ammo Brand
Parts