Revolver and Semi Auto Trigger Gauge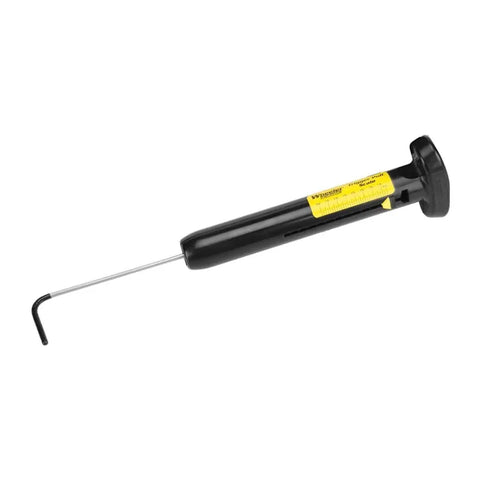 Wheeler Trigger Pull Scale - 8 oz to 8 lbs - Gunsmithing, Accurate Firearm Adjustment Tool
Description:
Introducing the Wheeler® Trigger Pull Scale: Your Precision Partner for Elevating Firearm Performance
When it comes to enhancing your firearm's performance, accuracy, and safety, the Wheeler® Trigger Pull Scale stands out as the ultimate tool in your arsenal. We understand that achieving that perfect trigger pull is not just a matter of preference; it's a critical factor that can significantly impact your shooting experience. That's why we've meticulously crafted this scale to provide you with precise and reliable measurements, ranging from an ultra-sensitive 8 ounces to a robust 8 pounds.
Ergonomic Excellence:
At the heart of our design philosophy is your comfort and control. The Wheeler® Trigger Pull Scale features an ergonomically shaped handle that conforms perfectly to your hand. This thoughtful design ensures a consistent and controlled direction of pull, allowing you to fine-tune your trigger settings with unparalleled ease and precision.
Crystal-Clear Readings:
We know that clarity matters when you're making adjustments to your firearm's trigger. That's why we've incorporated highly visible increment markings and an easy-to-read sliding indicator into our scale's design. With our scale, you can effortlessly track your trigger's performance, and the indicator remains steadfastly fixed at the maximum weight registered, eliminating any guesswork.
Unmatched Precision:
The Wheeler® Trigger Pull Scale measures in 2-ounce increments, delivering pinpoint accuracy that you can rely on. With a margin of error as low as +/- 2 ounces, you can trust that your adjustments will be exact and consistent. This level of precision is invaluable for shooters who demand the utmost accuracy and safety from their firearms.
When it comes to firearm safety, accuracy, and the ultimate shooting experience, the Wheeler® Trigger Pull Scale is an indispensable companion. Whether you're a seasoned marksman looking to fine-tune your trigger for competition or a meticulous enthusiast who values safety above all else, our scale ensures that your firearm's trigger is finely tuned to deliver both precision and safety.
Elevate your shooting experience today with the Wheeler® Trigger Pull Scale—the trusted choice of firearm enthusiasts worldwide. Unleash the full potential of your firearm, and experience the difference that precision makes in every shot.
Google Reviews
Categories
Brand
Frame
Caliber
Shot
Thickness
Ammo Brand
Parts