Loctite High Strength Red #271 Threadlocker for Secure Firearm Assembl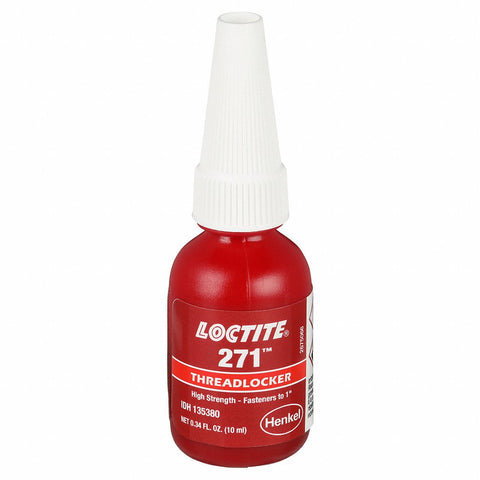 Loctite High Strength Red #271 Threadlocker for Secure Firearm Assembly and Maintenance
Description:
Loctite High Strength Red #271 Threadlocker is a must-have product for anyone involved in firearm assembly and maintenance. This high-strength threadlocker is specifically designed to secure threaded fasteners and prevent them from loosening due to vibrations or shock. It is ideal for a wide range of applications in the firearm industry, ensuring that critical components remain securely fastened.
Key Features and Benefits:
1. High-Strength Bond: Loctite #271 Threadlocker is known for its exceptional holding power. It creates a strong and reliable bond between threaded parts, ensuring they stay in place even under heavy recoil or use.
2. Prevents Loosening: Firearms are subjected to various forces, including recoil and vibration, which can cause threaded components to loosen over time. This threadlocker prevents such loosening, enhancing the overall safety and reliability of the firearm.
3. Ideal for Critical Components: It is particularly useful for securing critical components such as scope mounts, rail systems, muzzle devices, and other threaded parts that need to remain securely attached during use.
4. Easy Application: Loctite #271 comes in a convenient liquid form that is easy to apply. Simply apply a small amount to the threads of the fastener, assemble the parts, and allow it to cure. It forms a strong, reliable bond without the need for special tools or equipment.
5. Heat and Chemical Resistant: This threadlocker can withstand high temperatures and is resistant to various chemicals, ensuring it remains effective even in harsh conditions.
Specifications:
Type: High Strength Red Threadlocker
Temperature Range: -65°F to 300°F (-54°C to 149°C)
Cure Time: 24 hours for full cure
10ML
In summary, Loctite High Strength Red #271 Threadlocker is an essential product for ensuring the security and reliability of firearms. Its high-strength bond, resistance to loosening, and suitability for critical components make it a valuable addition to any gunsmith's toolkit. Use it to enhance the durability and safety of your firearms during assembly and maintenance tasks.
Google Reviews
Categories
Brand
Frame
Caliber
Shot
Thickness
Ammo Brand
Parts